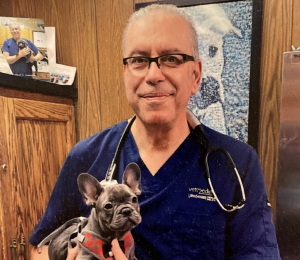 Dr. Anastasiou was born and raised in Athens Greece and received his Veterinary degree at the Aristotelian University of Thessaloniki Greece. He served in the Greek Air Force for two years as a Veterinarian for the dogs in airport security.
Dr.Anastasiou emigrated to the United States in 1990 and completed a Masters degree in Microbiology and Immunology at New York Medical College in Valhalla New York as well as an externship at the Animal Medical Center in New York City.
Dr. Anastasiou has been practicing for about 29 years. He has worked at a multi-doctor practice on Long Island, Middletown Animal Clinic in the Bronx, and at a 24-hour emergency and specialty hospital in upstate NY.
He is passionate about his work with animals and takes pride in building long-term relationships with clients .
Dr.Anastasiou loves spending time with his family and friends , playing basketball, and providing good care to all the animals he cares for which include his two dogs and cat as well as the pets of family members and friends.